News & Announcements
Posted on 05/14/2015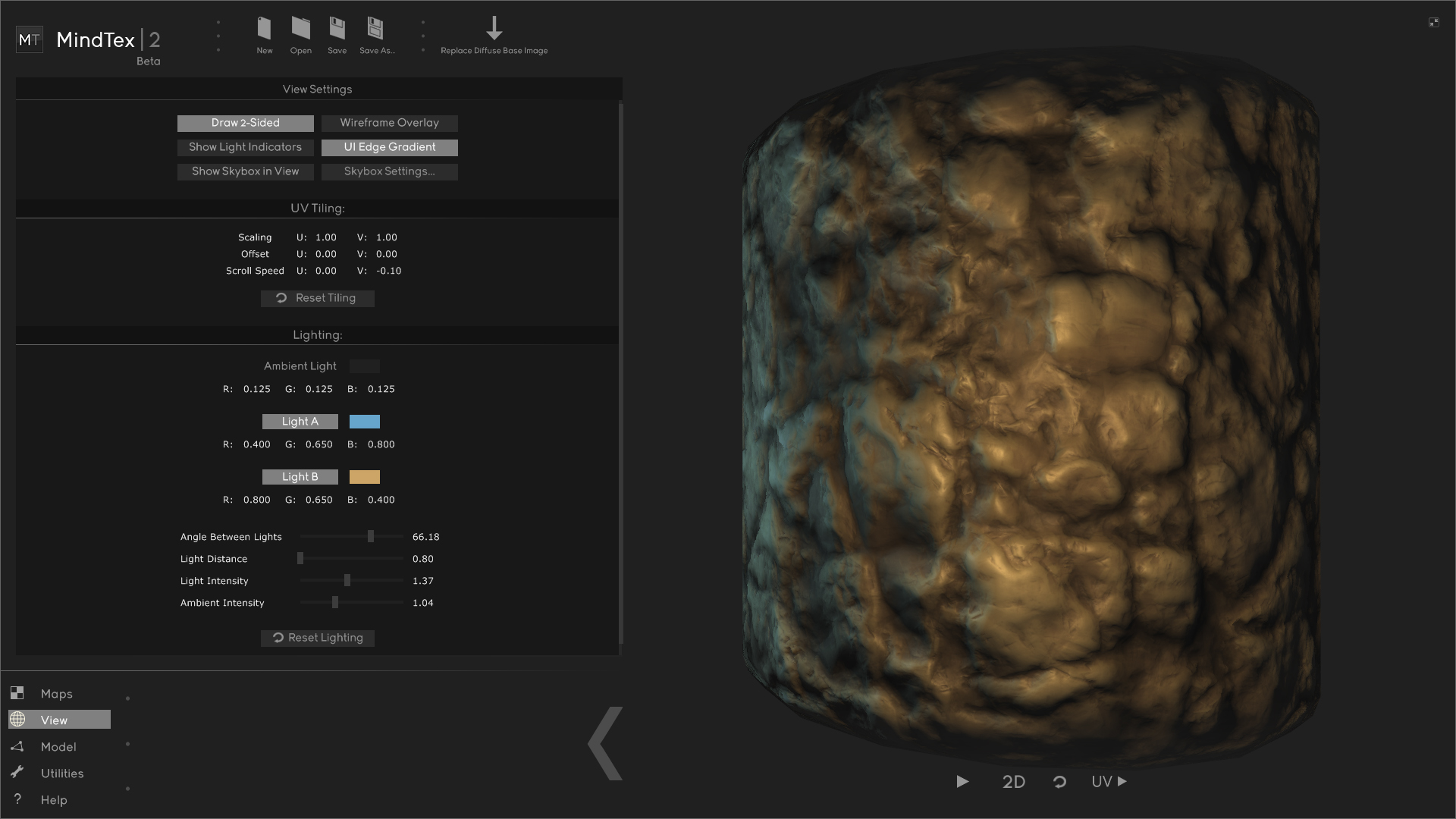 MindTex 2 Now In Beta!
MindTex 2 is now in beta, open to anyone who has purchased a license or wants to take it for a trial run. Download it here!.

If you've purchased on Steam, simply opt into the beta by Right clicking -> Properties -> Betas -> Select 'beta' from the drop down and it should update.


What's new (Overview):

Reimagined Interface - MindTex 2 features a completely overhauled user interface to allow for more flexibility, designed specifically with future updates in mind...and yes, the window is resizeable!


Increased Stability - Rewritten from the ground up, MindTex 2 was redesigned for future extensibility and increased overall stability


Better Results - With its redesigned core, MindTex 2 now produces even better results with performance and quality that scale better with larger texture sizes


Additional Maps and Parameters - In addition to a ton of added generation parameters and features, MindTex 2 also now allows for generation of Reflection Masks and Gloss Maps with the same powerful simplicity as always
FAQ:
What will it cost? - After much deliberation, I've decided to simply release MindTex 2 as a free update for everyone who has purchased the original. I have not yet decided 100% on a final price point, but it will be very close to (if not the same as) the current price for anyone who has not yet purchased a license.


Will it be compatible with the previous version? - As of right now, MindTex 2 uses a different file format for saving projects and is not compatible. This is because, at its core, the versions work differently. I will be working on getting a project upgrade feature ready, but it is not yet in as of the time of writing.

Please send any additional questions, suggestions, feedback, or bug reports to: support@frozenflamecorp.com. I'll try to update the FAQ as questions come in. Thanks!

Posted on 08/08/2012
Hey everyone, we're going to start posting information on updates and other cool new stuff we do on twitter, so be sure to follow us!

Posted on 07/20/2012
MindTex has recently been updated to include a fullscreen model preview feature as well as significantly improved custom model loading functionality. If you haven't already, grab the latest version here.

Posted on 04/09/2012
Hey everyone, we are happy to announce that we are now reducing the price for MindTex by 75%, from $64.95 to just $14.95, so if you had any reservations about buying it before, now is the time to grab a license and give your production pipeline an extra boost!

Posted on 03/07/2012
The aforementioned registration / trial server connection problems with MindTex seem to have been resolved in the latest update, available here.

Additionally, because these issues may have made for a choppy trial experience, all 30-day trials have been reset to allow for a more uninterrupted evaluation period.

Posted on 03/05/2012
Hello everyone, there have been some reported issues with people connecting to the registration and trial servers for MindTex lately. While, unfortunately, this wasn't caught during the open beta, we are working as quickly as possible to resolve this and we should have an update out within the next couple of days if not sooner. Thanks for your patience and your continued support of MindTex!

-Ryan

Posted on 01/31/2012
Starting Saturday, February 4th, the MindTex beta build will no longer be functional. To continue evaluating MindTex after this, please download the release build here. With the release build, you will have the option to evaluate MindTex for free for 30 days, after which a license key will be required to continue using MindTex.

On that note, I just wanted to say thanks again to everyone who participated in and purchased MindTex during the beta, and I hope it continues to prove useful in your future projects!

Posted on 12/15/2011
Our latest project, MindTex, is now in open beta. Visit the official product page for additional information.